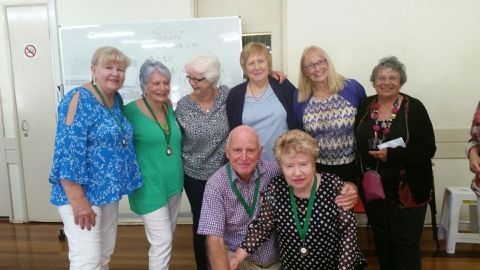 Huge congratulations to team XERRI - Marianna Xerri, Nola Daly, Pamela Leathely & Ford Leathley for 1st Place in the Restricted Teams Section and team VERSTEEGE - Sharon Versteege, Merlyn Morris, Wanda Little & Sharon Hart for 2nd in the
Join us for New Years Eve bridge! 8:00pm start. Standby available. Bring some nibblies to share and your drink of choice. Non-alcholic beverages will be provided.
Congratulations goes to Stuart Duxbury for winning our 2018 Club Individual Championships on Wednesday 14th November. Stuart has won the event for the past three years. With a whopping 36 individuals participated in the day we have a very close second and third place going to Nola Daly and Norm Berger. Thanks to everyone who attended for making it a great day.
Sorry for the long delay, we have finally updated and Masterpointed the Interclub Teams event held back in July 12th this year. Any masterpoints that you have been awarded should appear soon in ABF Masterpoints Lookup.
On line Bridge Lessons ( ranging from free for practice hands to $15 a month for the  On Line School of Bridge) are available on the Joan Butts website.  These lessons are promoted by ABF and may be of interest to our members. A link has also been added to our links section in the main menu.
The new date and time for our Club Individual Championship will be Wednesday 14th November from 9:30am to 4:00pm the cost is $10 and lunch is not provided. You can enter via the notice board and also on our online calendar (just enter N/A for your partners name).
The CCBC Committee has discussed the current drought and decided to hold a Drought Appeal.  
Throughout the week commencing Monday 12th November and concluding Friday 16th Nov there will be envelopes on the tables for those members  who wish to make a donation.
Thursday 15th sessions will be dedicated to the appeal and  the Table Fee will be $10.