Dear Members,
NSW Health has implemented tighter restrictions as a response to the recent outbreak of Covid infections. The Central Coast is included in these Greater Sydney restrictions.
From Monday January 4, it is compulsory to wear masks while visiting shopping centres, retail outlets, cinemas, theatres, hair and beauty salons, places of worship, and on public transport. (click Read more at the bottom for the full article)
For the first time we held our Almost Summer Congress as an online event.  A big thanks to our Organiser and Director, John McIlrath.
In the Restricted Pairs our members did really well and a big congratulations goes to the following winners and place getters:
1. Pauline Caust & Alan Bustany
2. Nola Daly & Berenice Air
7. Jane Stephens & Colin Kleinig
8. Roy Cotton & Steve Calcroft
We're excited to announce that we will be re-opening our Monday and Thursday morning sessions of bridge in 2021.  Kicking off on Monday January 4 at 9.30am and Thursday 7 January at 9.30am.  
Supervised sessions on those two days that have previously been starting at 1pm will now start at 1.30pm from the 4th January onwards.  
The calendar has been updated and you can start booking in for those sessions (optional) or you can simply turn up at the club for your preferred session.
Day 4 of our 6 days of Christmas and we applaud Jane Stephens and Colin Kleinig for getting right into the Christmas spirit.  Colin sported a very cool Christmas tie and Jane was rocking these Christmas boots!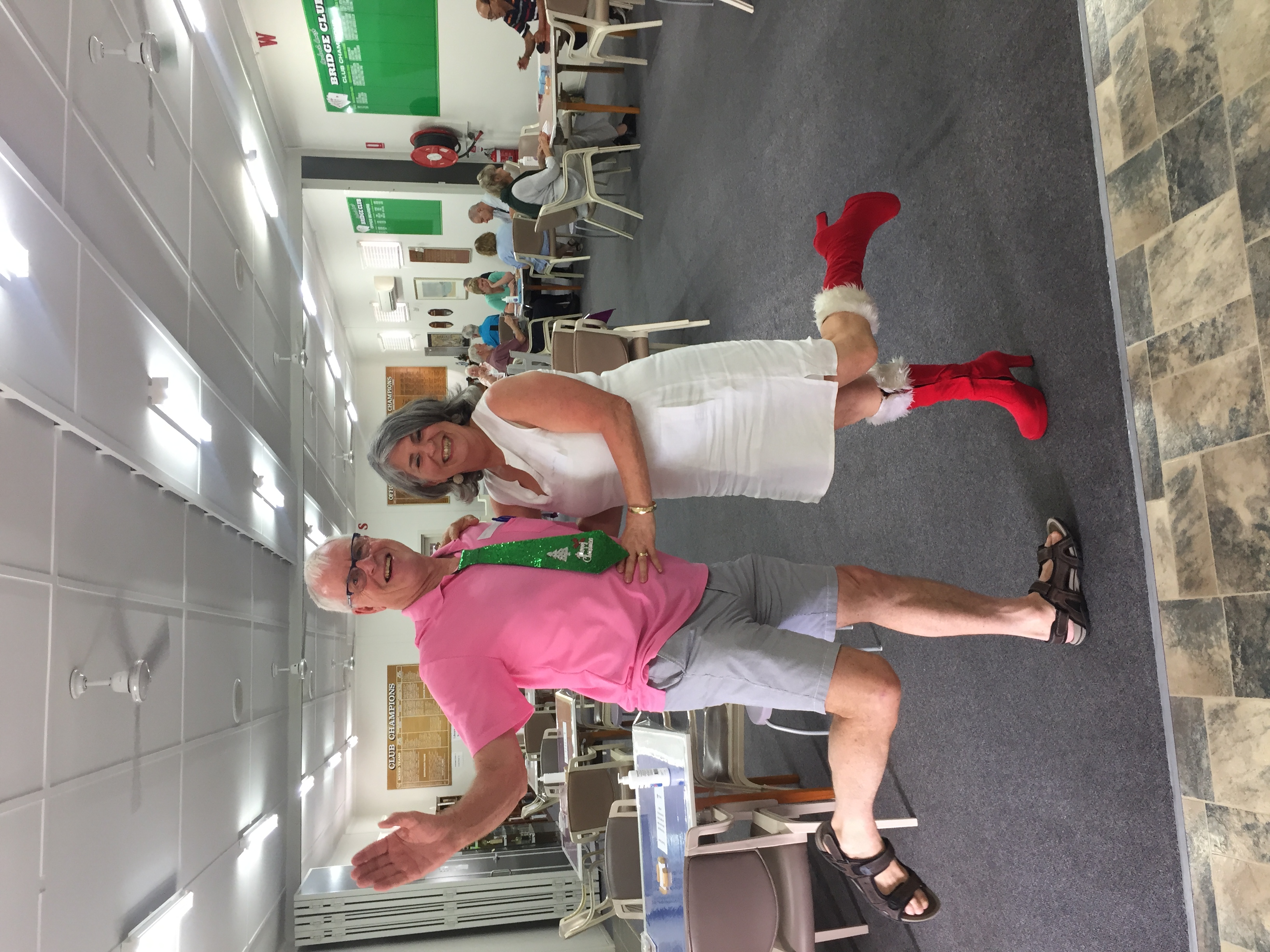 In a tightly-contested, two-week competition Eris Brown and Marg Brett emerged triumphant as the Black Swan trophy winners for 2020!  Congratulations!
A big congratulations to John Redfearn and Shan Lawson who were the outright winners of the President's Cup club trophy event on Wednesday 19 November.
We're pleased to announce that our Tap and Pay facility is up and running.  You can now pay at the table using a card or your digital wallet on your Smart Phone.  You can also purchase game vouchers and pay your membership fees using Tap and Pay.  This is our preferred method of payment to save on the amount of cash handling.
Catch up with all the eCongress news from the State including entry details for the Sydney Spring Nationals being held on RealBridge 12-13 December
It was a full house and a great day for the Charity Day Pairs.  It came down the wire with a dead heat for first place.  On a regulation rules countback we revealed that the winners of the day were Sue Eastman and Kath Bromley!  Congratulations!
Thank you to everyone who played and raised money for our charity, Coast Shelter.  We have day 2 raising money for Coast Shelter on Thursday if you'd still like to get some raffle tickets in the draw for $60 vouchers to Bateau Bay Square, Bateau Bay Cellars or Erina Fair.